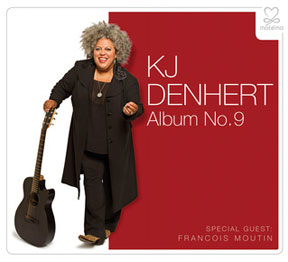 Album No. 9
Released 2010
This is definitely an album of nines for singer/songwriter/guitarist K.J. Denhert: nine songs, nine musicians, and recorded over a nine-month time span. With omens like that it promises to be good, and it delivers.
I imagine everyone will assume that I actually planned to name my ninth release Album No.9, with nine songs and nine musicians, recorded over nine months. To my amazement, I found a world-class studio right in my hometown of Ossining and booked my first session at Bicoastal Studios on 9/9/09. If you are into numerology, you might have guessed by now that my life-path number is 9. Coincidence? Actually, yes, all of it. Album No. 9 happened as I was doing many new things and I was doing what I love. I hope you'll love it too.
Track List
(click song title to see lyrics)
Album Notes
The Shadow of Your Smile and Alfie
I have loved these melodies since I was a little girl. These songs touch my heart and I was honored to present them in this dynamic trio format with Etienne Stadwyjk on piano. We debuted these songs at The Blue Note NY and I had to fight tears singing Alfie. For the recording session I was also honored to work for the first time with Francois Moutin on acoustic bass. I hope to do this again. Performing without my guitar is liberating and makes me feel vulnerable. Perhaps the secret of performance is the willingness to be vulnerable.
Pennies from Heaven
I started playing this tune so many years ago. It was a turning point for me in hearing and appreciating dominant 7 chords and making peace with them in cover tunes and my own writing. Before Francois and Etienne left I asked if they would mind playing this tune in the studio with me. What a joy this was for me and it is completely live.
Shadow Of Your Smile Bonus
Freedom is something you sometimes take more than it is handed to you. I never like to record anything after playing it more than three times. Shadow was the first song of the day, so setting microphones and levels sometimes requires few passes. Before I sang it again, I wanted to clear my head and open my voice up for the next pass. Hal was in the studio moving a piano mic. Thankfully he left the mics on and we got this pass without anyone knowing we were being recorded. I am releasing it because this represents the very best aspect of freedom.
Let It Go
I wrote this tune with a German singer named San Glaser. It's a song about being in a band, coming out to play at night. San came to New York to write songs with me. We wrote this tune for a songwriters group that was meeting in New Paltz at 9 AM the next day. We had a deadline and it helped to get the song finished. I enjoy the idea that it's also not bad advice to let it go sometimes.
Smoke on the Water
I wasn't even planning on releasing this song. Songwriter, Jeanne Ricks came over to play guitar and I showed her this riff from Smoke on the Water on an acoustic guitar and she said "Why aren't you recording that?!!" I brought it to the band at a rehearsal and we recorded it with our drummer Ray's digital recorder. That very first recording was so hip- that it became the intro to the song! You can hear Ray say "Rolling"! I was surprised to discover Deep Purple borrowed the iconic riff from a hit Brazilian tune recorded by Astrud Gilberto. It's a story about the misadventures of a band trying to make a record!
Choose Your Weapon
I met a guy named Johnny B. at the songwriter group that used to meet at 9am in New Paltz. He brought in a Blues song called Choose Your Weapon. I heard it on another musical platform. I was drawn to recreate the music so that it would support an anthem. I was returning to the island of St. Barthelemy and know that the folks there love Reggae –marrying the two ideas really clicked musically. Johnny was inspired by this quote "Speaking your heart is your weapon"- Gaye Agedbola. I was inspired by it all.
Help
Help came back to me just before the earthquake in Haiti. The volcano and the oil catastrophe followed. Each time I sang this song it was more cathartic for me. Its message once again became relevant in my lifetime. I remember the sixties and believe that my generation embraced the need to offer and to seek help. I jumped at the chance to have local hero, Clifford Carter write the string arrangement. I went looking for Ralph Farris, a talented old friend who plays viola with a truly happening string quartet called Ethel. Ralph and Dorothy Lawson joined us to play the arrangement. This was a wonderful first for me.
Chanson Baz Bar
This tune was written for the anniversary of our favorite little music venue on the island of St. Barthelemy in the French West Indies. The Baz Bar has been host to my band every January for nearly a decade. The lyrics were written through a process of question and answer between Natalie and Armel who worked at the Baz Bar. For example, I asked what is the simplest way to say "It's my favorite place to go when I want to go out". Natalie's response is the first lyric of the song and so on. Our little crossroads in such a big world is the refrain. It's my first song in French!
---
Musician Credits by track number
KJ Denhert (vocals, guitars, background vocals) 1-9
Etienne Satdwyjk (piano & keys) 1, 2, 3, 4, 7
Francois Moutin (acoustic bass) 1, 2, 3, 4
Mamadou Ba (electric bass) 5,6,7
Ray Levier (drums) 5,6,7
Manu Koch (piano & keys) 5,6
Koko Jones (percussion) 5,6,7
Ralph Farriss (viola) 8
Dorothy Lawson (Cello) 8
Clifford Carter String arrangement 8
Production Credits:
Produced by KJ Denhert and Hal Winer
Recording Credits:
Recorded & mixed by Hal Winer, Bicoastal Music Studios, Ossining NY. Tracks 1,2,3,4,5,6 & 8
www.bicoastalmusic.com
Choose Your Weapon recorded by Richie Tozzoli & Ray Levier Chanson Baz Bar recorded by Francis Jacob and Richie Tozzoli Tracks 7 & 9 Mixed by Ben Wisch
www.benwisch.com
Mastering:
Steve Vavagiakis Bang Zoom Productions
www.bangzoomonline.com
Photographer:
Helene Delillo
Special thanks:
Lisa Sandagata, Bettina Bellande, Linton Suttner, Ralf & Lien Menningen, Stanley Tomczak, Gina De Sienna, Enzo Capua, Gloria Catinchi, Gar Ragland, Maria Matias, San Glaser, Johnny B, Paul Ewing, Jana Herzen, Clifford Carter, Ralph Farriss, Dorothy Lawson, the band & Hal Winer