K J Denhert
Issue No. 22 / December 2014
Kind Folks,
I am announcing some great shows with the band to close what has been an amazing year. I hope you like the new format of the newsletter. Hopefully it's easy to read on your little devices! We're coming to Brooklyn, Peekskill and the West Village this week and next week we're headed to Italy for the Umbria Jazz Festival.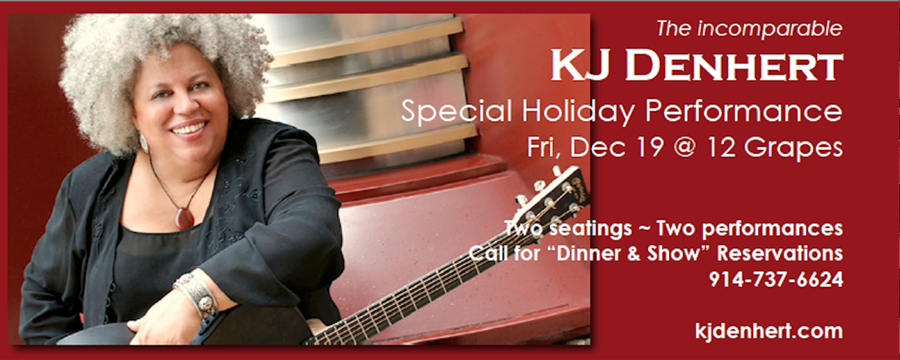 Upcoming Gigs
12/18 Jalopy- Bklyn NY 7:30
12/19 12 Grapes-Peekskill 7:30 & 10pm
12/20 55 Bar Late Show 10pm
12/28-1/1 2015 Umbria Jazz Orvieto Italy
Happy New Year
Thursday's show (12/18) features Jen Chapin, Mike Errico and me. On Friday night (12/19) there is a very special holiday show with two seatings, 6:30 & 9;30, at 12 Grapes in Peekskill. Saturday (12/20) we'll be at The 55 Bar. The following Friday we leave for a week of shows at Umbria Jazz Winter Festival #22 in Orvieto Italy.
Scroll to the end for complete details
​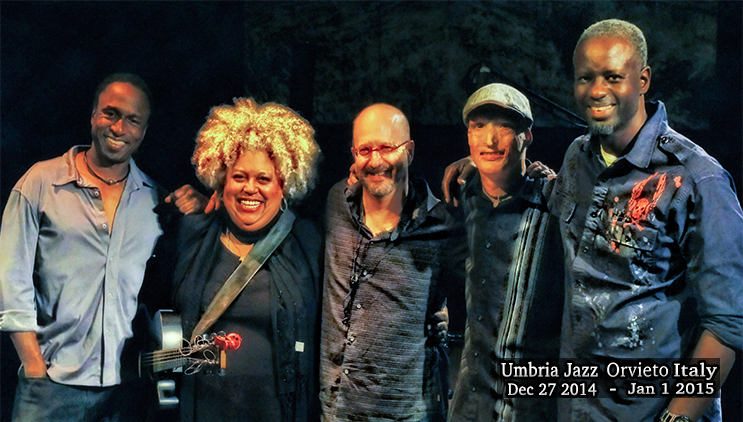 JANUARY
2015
1/ UMBRIA JAZZ FINAL DAY
2/JOE'S PUB NYC
3/55 BAR LATE SHOW
7/ 55 BAR EARLY SHOW
9/THE CLASSON BROOKLYN
11/ APAP SHOWCASES @ HILTON
14/ 12 GRAPES PEEKSKILL
17/55 BAR LATE SHOW
19- 31/BAZ BAR ST. BARTH
Live video at The Falcon
Live at The Falcon
​​
Click ALBUM covers to download KJ's music from iTunes right now. Find lyrics to all of the songs and liner notes for Destiny here .
Destiny
Album No. 9
del Vivi a Umbria Jazz
KJ Denhert Live
Lucky 7
Another Year Gone By
Girl Like Me
Looking Forward Looking Back
2014 was an amazing adventure and the calendar in my kitchen had some quotable quotes, my favorite of which is this one;
Don't ask for an easier life, ask to be a stronger person.
This month the snarky little calendar had this to say
Take nothing for granted have only good days or great days
My voice and music may not change the world, but if I can inspire even one person, in the length of one song to feel something positive, something authentic, I am good with that. The moments spent flailing about, lost in the music in front of you kind folks, are the keepers. Thank you for all of it.
Happy Holidays!
– KJ
One Day
One day I told my self I would
Do everything I thought I should
Good for you and good for me
What happened next I really didn't see
kj denhert
December 2014
Thurs Dec 18 – Jalopy Theater
315 Columbia St Bklyn NY (btw Hamilton & Woodhull) 7:30 pm (718) 395-3214
Mamadou Ba bass, Adam Klipple keys, Ray Levier drums
KJ Denhert, Mike Errico & Jen Chapin 3 sets @7:30,8:30, 9:30
Jen organized the whole event and I'm super psyched to be a part. She used to do this all the time and I met some great songwriters as a result back in the day. I would love to see you Brooklyn folk and others fill the house !
Fri Dec 19th -12 Grapes Holiday Show
12 N. Division St. Peekskill NY
7:30 pm (718) 395-3214
Mamadou Ba bass, Adam Klipple keys, Ray Levier drums
Please Note: Two seatings and Prix Fixe options
*6:30 Seating: $48 per person for 3-course Dinner & Music. KJ performs 7:45 – 9:00.
*9:30 Seating: $48 per person for Small Plates tasting menu and 2 hours of Open Bar. KJ performs 10:00 – 11:30.
Info/Reservations: 914-737-6624
Rich and Jeannie really pulled out the stops to make this a great evening – make a reservation today! Last Friday we celebrated Jon Bates birthday and we had a blast, with great food, wine and music.
Sat Dec 20th – The 55 Bar
55 Christopher St @ 7th Av South (212) 929-9883
Sets at 10pm, 11:30pm & 1:00am, $10 cover
Mamadou Ba bass, Ray Levier drums, Adam Klipple keys, Koko Jones percussion
Celebrating 18 years in residence!!
Please visit kjdenhert.com for complete listings
LIKE
TWEET
FORWARD
KJ Denhert | kjdenhert.com
P.O. Box 1316, Ossining, NY 10562
Hi, just a reminder that you're receiving this email because you have expressed an interest in musician and bandleader K J Denhert. Don't forget to add kj@kjdenhert.com to your address book so we'll be sure to land in your inbox!
Preferences | Unsubscribe