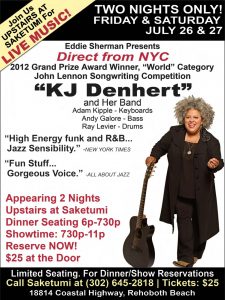 Eddie Sherman Presents . . .
 NYC Urban Folk and Jazz Artist KJ Denhert
Appearing 7/26th & 7/27 Upstairs at Saketumi
St. Patrick's Day weekend of 2013 found Cape Region musicians Eddie Sherman and Peggy Raley in New York City but they were not there to celebrate all things Irish. By a fluke they had landed in the middle of one of Gotham City's biggest party days. The throngs of high-spirited and well lubricated holiday revelers abounded on every corner. The pair headed to the West Village in an attempt to find civility in some good live jazz and glass of wine. Seeking refuge from the biting wind laden with swirling snow, serendipity stepped in and delivered them to the doorstep of 55 Bar. What they found inside was magical.
Do you remember how you felt the very first time that you heard artists like Joan Armatrading, Joni Mitchell, Laura Nero, and Rickie Lee Jones and how the music struck you with its sheer originality, in the complexity of songwriting, power and beauty of lyrics and prowess of both vocal ability and musicianship? On Friday, July 26th and Saturday, July 27th Eddie Sherman Presents the extraordinary urban folk and jazz artist, KJ Denhert, at Saketumi and you will have the chance to have that experience again.
Denhert is a many time award winning singer/songwriter with her most recent award coming in 2012 as the grand prize winner of the John Lennon song writing award in the "world" category. KJ's performance will move you to laugh, to dance and even to cry. NYC music critic Rich Cuccaro writes, " Listening to KJ Denhert sing for the first time, I though to myself – It's like hearing Roberta Flack with an acoustic guitar! – Every time I've seen her, the silky-smooth vocals and the jazz-laced guitar phrasing have always reinforced that first impression. Her fluidity and command of every element in her arsenal has never ceased to amaze me."
She has been an artist in residence at Italy's Umbria Jazz Fest for nine times and has just appeared at the Cairo Jazz Fest. She is a veteran of Syracuse, Rochester and Cape Cod's Jazz Fests. KJ has a winter residence at Baz Bar in St. Barts and has been in residence at 55 Bar since 1997. She will make her Cape Region debut on the heels of headlining at The Iridium in NYC. She brings with her a formidable band of musicians.
Adam Kipple on keys has been described as "a standout pianist who has gone to school on McCoy Tyner and Cecil Taylor and earned his degree" Composer and musician, Kipple plays piano, Hammond organ, sample and a variety of vintage pianos. He leads three of his own groups. One of his groups toured southest Asia and the Pacific Rim as part of Jazz at Lincoln Center's Rhythm Road series. His jazz piano quartet toured as Jazz Ambassadors sponsored by the Kennedy Center and the Us Dept of State. He his a seasoned veteran of Jazz Fests both Internationally and at home including The New Orleans Jazz & Heritage Fest, the JVC Jazz Fest and Fests in Italy, Turkey, Brazil and Germany.
Bassist Andy Galore is a "world" musician by necessity. Says Galore, "I don't want any limits or restraints put on my work". He studied at the prestigious New School University in NYC with Reggie Workman, Buster Williams and Chico Hamilton. He has in BA in Bass and has been awarded prestigious scholarships from LA to Vienna, Austria. The Village Voice says, "He has an impressive style and technique combined with a great stage presence.
Ray Levier is a touring drummer, composer, producer and educator. Ray is an all around musician who has the drum world in awe of his skills. There is another reason that his playing also blows them away. He's a drummer who lost most of the fingers on both hands. Ray has reached the top tier of professional jazz drum, despite having substantially lost all ten fingers to severe burns in a camping accident as a child. Refusing to be defeated, his love of drumming was – and still is – the key to his healing process. Internationally known drummer and clinician Don Famularo says, "I play my students Ray's recordings and they are blown away by his skill. Then I tell them Ray's story and their eyes get wide. After that they have no excuses"
KJ and her amazing band will perform two nights in the upstairs club room at Saketumi on Fri. July 26th and Sat. July 27th. Tickets are $25 at the door. A dinner seating is available from 6pm – 7:30. Show times both nights are from 7:30pm – 11pm. Reservations must be made by calling Saketumi at (302)645-2818. The restaurant is located at 18814 Coastal Highway, Rehoboth Beach.